The F.A.R.M. in South Berwick, Maine
With the decline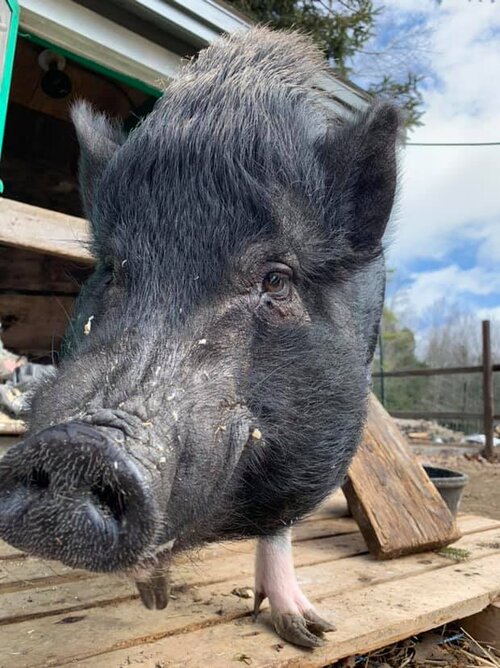 in traditional farming, farm animals often find themselves in auctions, sold for whatever purpose the buyer wants.
Sometimes their needs are neglected due to the ignorance ofowners of how to care for them properly. Sometimes a family needs to re-home a beloved farm animal due to the illness or death of the owner, a far more difficult task than re-homing a cat or a dog.
While most animal rescues in Maine have their hands full with cats and dogs and the occasional smaller animal, few have the room for larger outdoor animals in need.
That's where the Farm Animal Rescue of Maine (F.A.R.M.) steps in.
Simply put, the F.A.R.M. "exists to provide love and safety to farm animals".
Goats, horses and ponies, turkeys and chickens, ducks, pigs, rabbits, and donkeys have all found their way to this 6 acre farm animal sanctuary in southern Maine, where they depend on round-the-clock care by one couple, their teenage daughter and a few dedicated volunteers.
As the spring of 2021 begins the F.A.R.M. finds itself a little behind financially, but looking ahead with optimism. The pandemic of 2020 brought a halt to the week-long summer camps for children at the F.A.R.M., usually a strong source of monetary support. Due to this, animal intakes have been temporarily suspended while resources are spent on the animals already living at the F.A.R.M..
Happily, events that are ope
n to the public are resuming for 2021, with the first one slated for June.
If you'd like to help the Farm Animal Rescue of Maine continue to fulfill its mission to provide love and safety to neglected, abused or homeless farm animals, they are always in need of financial support or skills like carpentry to do fence repair, or photography to help with a calendar, or social media skills to help with publicity -- the sky's the limit!
For more information or to contact the Farm Animal Rescue of Maine, please visit http://www.farmanimalrescueofmaine.org/.
Williams Realty Partners of Keller Williams Coastal and Lakes & Mountains is the #1 KW Team in Maine. We strive to provide an exceptional experience to all our clients, whether they are buying, selling, or investing in real estate. The team can be reached at 1-207-351-8188.